Alliant 2400 Powder is available in 1lb, 4lb and 8lb containers
Alliant Smokeless Powder is backed by a century of manufacturing expertise and the strictest quality control standards in the business with every container.
A ballistics lab regularly tests and checks chemical composition, grain size and form, and overall density to assure consistency.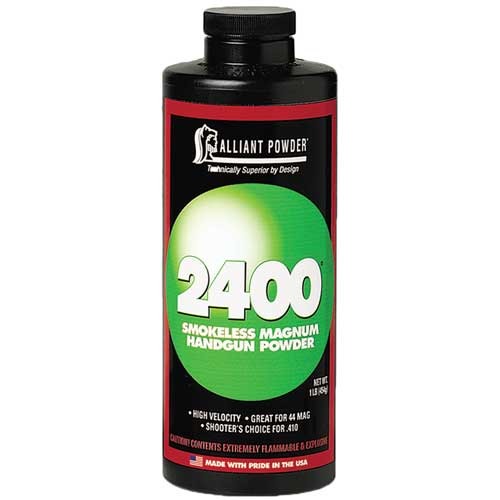 2400 Powder
An ideal load for handguns chambered in magnum cartridges like the 44 Remington Magnum,
The legendary Alliant 2400 Powder, which is currently available for purchase, is used to reload for magnum firearms.
2400 Powder, which was initially created for the 22 Hornet, can also be used in loads for the 218 Bee and the 410 Bore shotgun.
Warnings from the Manufacturer:
Do not load more than what is indicated in the reloaders' handbook.
Regardless of the kind, brand, or location, never combine any two powders.
Never use smokeless powder in place of black powder or any other black powder alternative.