Alliant Smokeless Powder is backed by a century of manufacturing expertise and the strictest quality control standards in the business with every container.
The continual monitoring of chemical composition, particle size and shape, and overall density
To assure consistency, it was examined and tested in a ballistics lab.
Alliant 410 Powder in stock is available in both 1lb and 8lb container.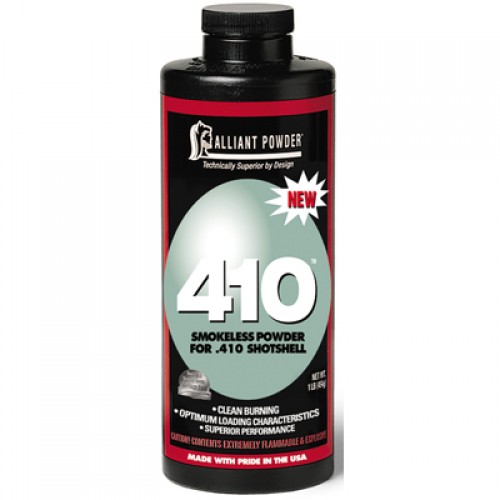 410 Powder in stock now for sale is a flake powder specifically designed for the exacting
needs of .410 skeet and field loads. Being the cleanest burning  alliant 410 available,
With smaller powder charge weights and improved loading properties, 410 is more effective. The 410's exceptional ballistic performance yields flawless patterns
Consistent performance in any weather, shot after shot, lot after lot, makes 410 your reloading powder of choice.
Warnings from the Manufacturer of Alliant 410 powder: