Green dot powder in stock now for sale is available in 1,4 & 8lb containers.
Alliant Smokeless Powder is backed by a century of manufacturing expertise and the strictest quality control standards in the business with every container. A ballistics lab regularly tests and checks chemical composition, grain size and form, and overall density to assure consistency. Green Dot is the best because of its adaptability, great patterning, and lower perceived recoil. for reducing trap loads by burning with accuracy, which results in tight, even patterns.
Warnings from the Manufacturer:
Do not load more than what is indicated in the reloaders' handbook. Regardless of the kind, brand, or location, never combine any two powders. Never replace black powder or any substitute for black powder with any smokeless powder.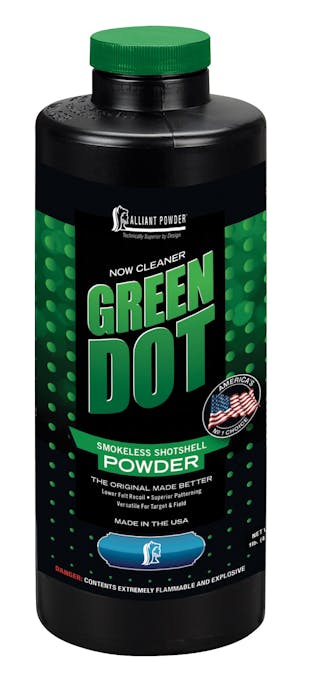 Green dot has been redesigned to be cleaner-burning and deliver precise burn rates for uniformly tight patterns and less felt recoil. Use in the field, or on the target range with handicap trap loads, as well as 20 and 28 gauge target loads. The best long-range clay target powder out there.