Every container of Alliant Smokeless Powder is backed by a century of manufacturing experience and the most exacting quality control procedures in the industry. Chemical composition, grain shape and size, and overall density are constantly checked and tested in a ballistics lab to ensure consistency.
Strictest quality control standards in the business with every container. A ballistics lab regularly tests and checks chemical composition, grain size and form, and overall density to assure consistency.
Shooters require propellant that operates consistently over a wide variety of temperature extremes in order to achieve exceptional accuracy in the most challenging circumstances.
Shooters need propellant that performs consistently across temperature extremes in order to achieve great accuracy in the widest range of circumstances.
the material's reaction and fights its inclination to produce more pressure at higher temperatures and less pressure at lower ones.
Alliant Reloder 23 Powder is perfect for long-range target shooters seeking performance similar to Reloder 22 with world-class temperature stability.
          Reloader 23 is available in both 1 Lb. and 8 Lb. container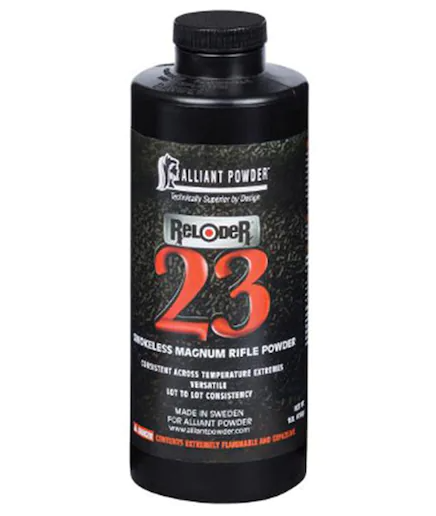 Warnings from the Manufacturer:
Do not load more than what is indicated in the reloaders' handbook. Regardless of the kind, brand, or location, never combine any two powders. Never use smokeless powder in place of black powder or any other black powder alternative. Functions (rl 23)
TZ technology offers remarkably constant speeds in temperature extremes. has a unique de-coppering additive Perfect for shooting targets at a distance excellent consistency from lot to lot Formula does not include DNT or DPB.