Hodgdon H380 Smokeless Gun Powder  offers the largest selection of quality smokeless propellants for any reloading application. And was originaly developled for use in the 22-250 Remington becoming known for its accuracy and high velocity. H380 is also a superb performer in the 220 Swift, 243, 257 Roberts and other fine varmint cartridges.
Hodgdon H380 Smokeless Gun Powder, the reliable choice for discerning reloaders seeking exceptional performance and consistency. Engineered with precision and backed by Hodgdon's sterling reputation, H380 is a versatile powder designed to deliver optimal results in a wide range of rifle cartridges.
Crafted with utmost care, Hodgdon H380 is formulated to provide consistent burn rates, ensuring uniform and predictable velocities shot after shot. This allows reloaders to achieve remarkable accuracy and tight groupings, making it an excellent choice for both competitive shooting and hunting applications.
Hodgdon H380's unique composition and granule size contribute to its exceptional metering capabilities. This means reloaders can expect smooth and precise powder dispensing, minimizing the chances of overcharges or undercharges that could compromise performance or safety.
Featuring a clean-burning formulation, H380 minimizes fouling and residue buildup, reducing the need for frequent cleaning and maintenance. This not only saves time but also helps preserve the longevity of your firearm, enabling you to focus on what matters most—your shooting experience.
One of the standout qualities of Hodgdon H380 is its versatility. It performs exceptionally well across various popular rifle cartridges, including .223 Remington, .22-250 Remington, .243 Winchester, and more. This flexibility makes it an ideal choice for reloaders who appreciate the convenience of a single powder that can handle multiple calibers.
Safety is paramount when it comes to reloading, and Hodgdon understands the importance of providing accurate and reliable load data. They offer comprehensive and up-to-date reloading data for H380, empowering reloaders to make informed decisions and achieve optimal performance while maintaining safety standards.
In summary, Hodgdon H380 Smokeless Gun Powder is a
premium
choice for reloaders who demand precision, consistency, and versatility. With its exceptional burn rates, clean-burning formulation, and reliable performance, H380 is the powder of choice for those seeking outstanding accuracy and reliability in their reloading endeavors. Trust Hodgdon to deliver the quality and performance you expect from a renowned name in the industry.
Hodgdon H380 Smokeless Gun Powder For Sale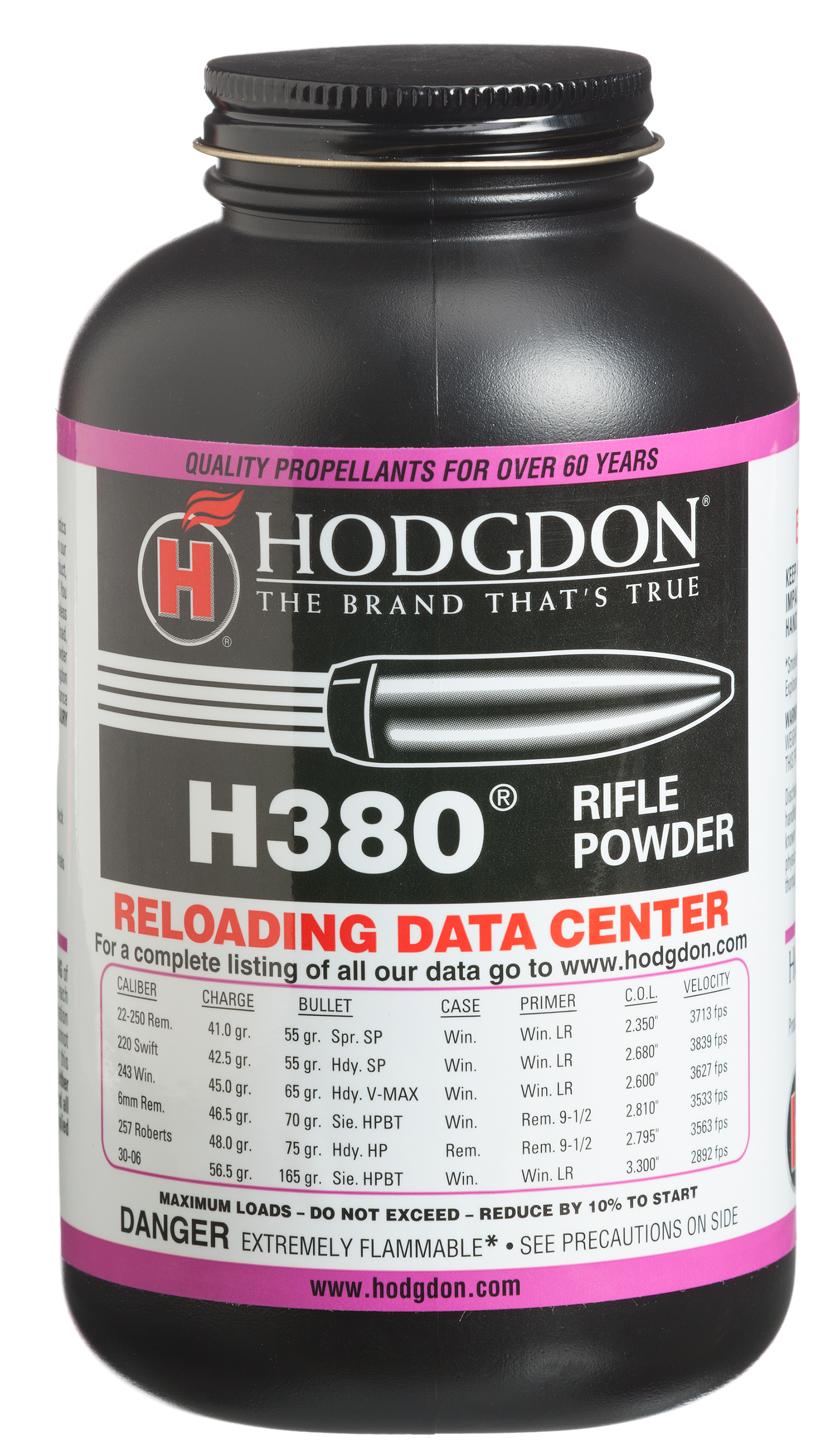 Warning About of h380 6.5 creedmoor:
Do not exceed the loads displayed in the reloaders guide.
Never mix any two powders regardless of type, brand, or source.
Never substitute any smokeless powder for Black Powder or any Black Powder substitute
some additional details about Hodgdon H380 Smokeless Gun Powder:
Performance: Hodgdon H380 is known for its exceptional performance characteristics. It offers consistent burn rates, ensuring reliable velocities and optimal ballistic performance. This consistency translates into improved accuracy, tighter shot groups, and enhanced downrange performance.
Application: H380 is particularly well-suited for a wide range of rifle cartridges. It is a popular choice for cartridges like .223 Remington, .22-250 Remington, .243 Winchester, .25-06 Remington, .270 Winchester, and more. Its versatility makes it an excellent option for both varmint hunting and medium-sized game.
Clean-Burning: Hodgdon H380 is formulated to burn clean and leave minimal fouling behind. This not only simplifies the cleaning process but also helps maintain the accuracy and reliability of your firearm over extended shooting sessions.
Consistent Metering: The granule size and composition of H380 contribute to its excellent metering characteristics. It flows smoothly through powder measures, ensuring consistent charges and reducing the likelihood of overcharges or undercharges. This level of precision is crucial for maintaining reliable performance and safety.
Reloading Data: Hodgdon provides comprehensive and up-to-date reloading data for H380, including recommended charge weights, bullet types, and seating depths. This data is essential for reloaders to achieve optimal performance while ensuring safety. By following the provided load data, reloaders can fine-tune their loads and achieve the desired results.
Hodgdon's Reputation: Hodgdon is a trusted name in the reloading industry, known for producing high-quality powders with stringent quality control measures. With a long-standing reputation for excellence, Hodgdon has become a go-to choice for reloaders worldwide.
Availability: Hodgdon H380 is widely available at firearm retailers and online stores that specialize in reloading supplies. Its popularity and widespread availability make it easy for reloaders to source this powder for their reloading needs.