The CCI Clean-22 Ammunition
22 Long Rifle
Subsonic 40 Grain Blue Polymer Coated Lead Round Nose is a high-quality ammunition designed for the .22 Long Rifle firearm. This ammunition is specially designed to offer a clean-shooting experience, with a blue polymer coating that reduces lead fouling in the barrel and keeps your firearm cleaner for longer.
The 40 grain lead round nose bullet is subsonic, which means it travels at a lower velocity and produces less noise when fired, making it an ideal choice for target shooting or hunting small game. The bullet is precision-engineered for accuracy, ensuring that you hit your target with every shot.
CCI is a trusted brand in the ammunition industry, known for their high-quality products and innovative designs. The Clean-22 Ammunition is no exception, offering a reliable and consistent performance every time you pull the trigger.
Whether you're a seasoned shooter or a beginner, the CCI Clean-
22 Ammunition
is a great choice for your next shooting session. With its clean-shooting design, subsonic velocity, and precision-engineered bullet, you can trust this ammunition to deliver the performance you need to succeed.
One of the standout features of this ammunition is its blue polymer coating. This coating reduces lead fouling in the barrel, which can lead to a build-up of residue over time, affecting accuracy and reliability. The polymer coating helps to keep the barrel cleaner for longer, reducing maintenance time and helping you to get the most out of your firearm.
The 40 grain lead round nose bullet is another key feature of this ammunition. The lead round nose design is a classic bullet shape that is well-suited for target shooting and small game hunting. It offers good penetration and accuracy, making it a versatile choice for a range of shooting activities.
The subsonic velocity of this
ammunition
is also noteworthy. When fired, the bullet does not break the sound barrier, meaning it produces less noise than other ammunition types. This can be particularly beneficial for recreational shooters who want to minimize noise pollution or for hunters who want to avoid spooking their prey.
Overall, the CCI Clean-22 Ammunition is a great choice for anyone looking for a high-quality, reliable ammunition option. Its innovative blue polymer coating, precision-engineered bullet, and subsonic velocity make it an excellent choice for target shooting, small game hunting, and more.
CCI Clean-22 ammunition uses an exclusive polymer bullet coating to greatly reduce copper and lead fouling in the barrel—without leaving a residue. It also cuts lead buildup in suppressors 60 to 80 percent. Both the Sub-Sonic and High Velocity loads feature a 40-grain round nose lead bullet with geometry that's been optimized for accuracy. With dependable CCI priming and consistent propellant, Clean-22 provides flawless cycling through semi-automatics and all 22 LR firearms.
CCI Clean-22 Ammunition 22 Long Rifle Subsonic 40 Grain Blue Polymer Coated Lead Round Nose For sale.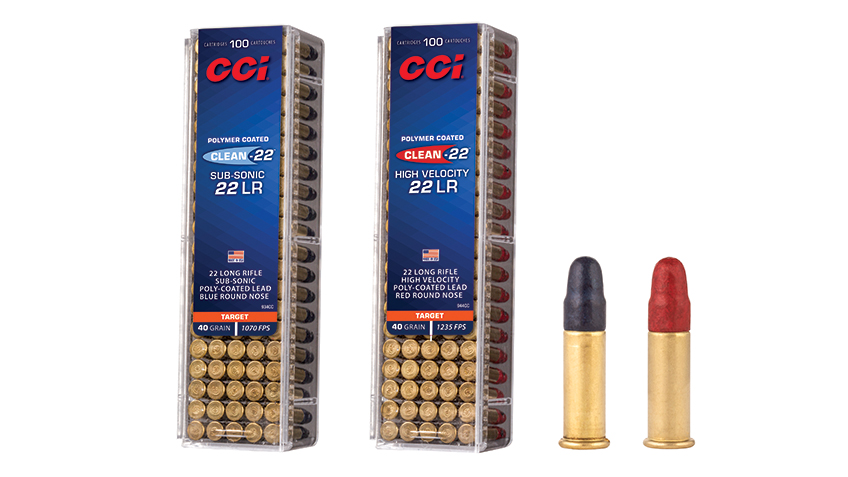 Features
Polymer bullet coating greatly reduces lead fouling in the barrel without leaving residue
Cuts lead buildup in suppressors 60 to 80 percent
40-grain lead round nose bullets—red for High Velocity, blue for Sub-Sonic
Optimized bullet geometry for improved accuracy
Reliable function in semi-automatic firearms
Great option both casual and competitive shooters
SPECS
| | |
| --- | --- |
| Caliber | 22 LR |
| Bullet Weight | 40 |
| Muzzle Velocity | 1070 |
| Bullet Style | Lead Round Nose |
| Ballistic Coefficient | .120 |
| Package Quantity | ___ |
| Usage | Target Shooting |