Introducing the CCI Small Rifle Bench Rest Primers, the ultimate choice for precision shooters looking to elevate their performance to the next level. Engineered with meticulous attention to detail, these primers are designed to deliver exceptional consistency, reliability, and accuracy, making them a must-have for competitive shooters, bench rest enthusiasts, and anyone who demands the utmost precision from their ammunition.
The CCI Small Rifle Bench Rest Primers are crafted using the finest quality materials and state-of-the-art manufacturing processes. Each primer undergoes rigorous quality control checks to ensure uniformity and reliability, giving you the confidence to achieve consistent shot-to-shot velocities and groupings.
These primers feature a specially formulated priming compound that delivers instant ignition and consistent burn rates, resulting in optimal muzzle velocities and improved accuracy. The sensitive yet stable composition of the priming compound ensures reliable ignition, even in adverse conditions, providing you with the performance edge you need in any shooting scenario.
Designed for small rifle cartridges, the
CCI Bench Rest Primers
are engineered to fit snugly in the primer pocket, ensuring a secure and uniform fit. This precise fit minimizes the risk of primer seating errors and helps maintain concentricity, ultimately contributing to tighter groupings and enhanced accuracy.
Whether you're a competitive shooter striving for that perfect score, a precision rifle enthusiast seeking the tightest shot groups, or a meticulous handloader looking to unlock the full potential of your ammunition, the CCI Small Rifle Bench Rest Primers are an indispensable tool in your quest for excellence.
Trust CCI's decades of experience in primer manufacturing and their commitment to quality and performance. Elevate your shooting experience with the CCI Small Rifle Bench Rest Primers and experience the difference in precision, consistency, and accuracy like never before.
CCI Small Rifle Bench Rest Primers #BR4 Box of 1000 (10 Trays of 100) For Sale.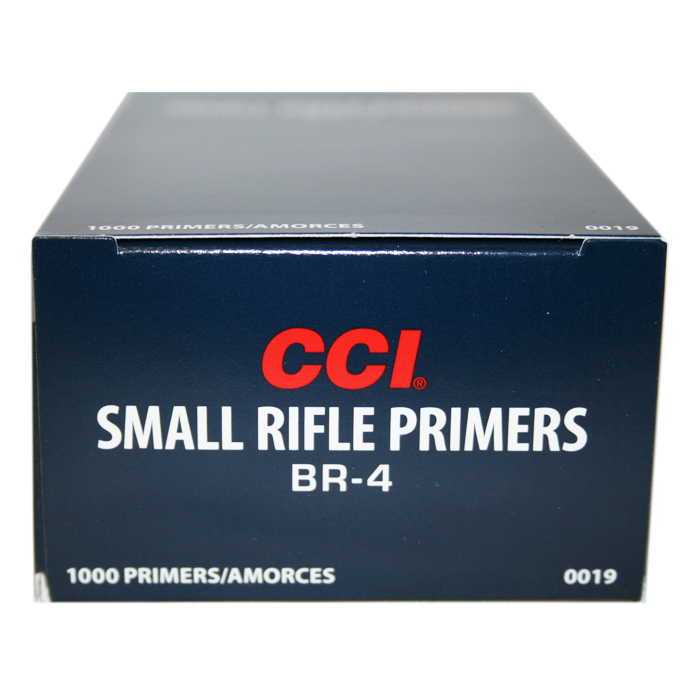 Specifications of cci br4 primers(CCI Small Rifle Bench Rest Primers)
Product Information cci br4
Quantity 1000 Piece
Primer Size Small Rifle
Delivery Information
Shipping Weight 0.895 Pounds
cci br4 primers in stock…. In Benchrest competition, there's no such thing as a group that's "too small." Everything has to be tuned to the highest degree to produce match-winning results. That's why you should use CCI Benchrest primers. Only the most experienced skilled personnel put the priming mix in the cups, so you get the same flame, shot after shot.
Benchrest Primers also use specially selected cups and anvils for added consistency. An independent researcher identified the use of CCI Benchrest primers as one of two factors that were the most significant contributors to tiny groups.
CCI Primers are continuously tested and improved. As a result today's CCI primers are more sensitive, easier to seat and more compatible with progressive and automated loading equipment than ever before. They utilize modern non-corrosive and non-mercuric initiator mixes for the cleanest burn possible.
In summary, the CCI Small Rifle Bench Rest Primers combine precision engineering, rigorous quality control, and high-quality materials to deliver unmatched consistency, reliability, and accuracy. Whether you're a competitive shooter or a precision enthusiast, these primers are a reliable choice to enhance your shooting experience and maximize your performance on the range.