Designed for the discerning sportsman and competitive shooter, Estate Super Sport Ammunition offers an unparalleled combination of reliability, performance, and affordability. Whether you're honing your skills at the range or pursuing game in the wild, this 12 Gauge 2-3/4″ ammunition is your ultimate companion for success.
Powerful Precision:
Each round of Estate Super Sport Ammunition is meticulously crafted to deliver consistent power and precision. The 12 Gauge 2-3/4″ size ensures optimal performance in a variety of shotgun models, providing the perfect balance between recoil management and shot effectiveness. Experience enhanced accuracy and tight patterns that allow you to dominate the target or bring down elusive game with confidence.
Reliability you can Trust:
When it comes to ammunition, reliability is key. Estate Super Sport Ammunition is manufactured using advanced techniques and quality control standards that guarantee exceptional consistency and dependability with every shot. From the first trigger pull to the last, you can trust Estate to deliver consistent performance, shot after shot.
Versatile Performance:
Whether you're engaging in trap shooting, skeet shooting, or hunting, Estate Super Sport Ammunition is designed to excel in a wide range of shooting applications. Its versatility makes it a preferred choice among enthusiasts and professionals alike. No matter the target or the environment, this ammunition rises to the challenge, ensuring you're always prepared for success.
Superior Features:
Estate Super Sport Ammunition is loaded with premium components and features that enhance your shooting experience. The carefully selected shot materials ensure optimal density and hardness for excellent downrange energy transfer and superior
stopping powe
r. The 2-3/4″ shell length strikes a perfect balance between payload capacity and manageable recoil, allowing for quick follow-up shots and improved target acquisition.
Affordable Excellence:
Estate Super Sport Ammunition stands out not only for its exceptional performance but also for its affordability. We believe that every shooter should have access to top-quality ammunition without breaking the bank. Estate Super Sport Ammunition offers an unbeatable value proposition, allowing you to maximize your shooting experience without compromising on quality or performance.
Choose Estate Super Sport Ammunition 12 Gauge 2-3/4″ and elevate your shooting performance to new heights. With its unparalleled reliability, precision, and affordability, this ammunition is your ultimate partner in the field or on the range. Unleash the full potential of your shotgun and experience the difference that Estate Super Sport can make.
Estate Super Sport Ammunition manufactures a complete line of shotshells, from sporting clays to hunting mallards. Specially designed wads and magnum shot ensure reliable patterns at all distances. These shotshells also feature a clean burning powder to ensure consistent velocity with each shot. Great for clay targets!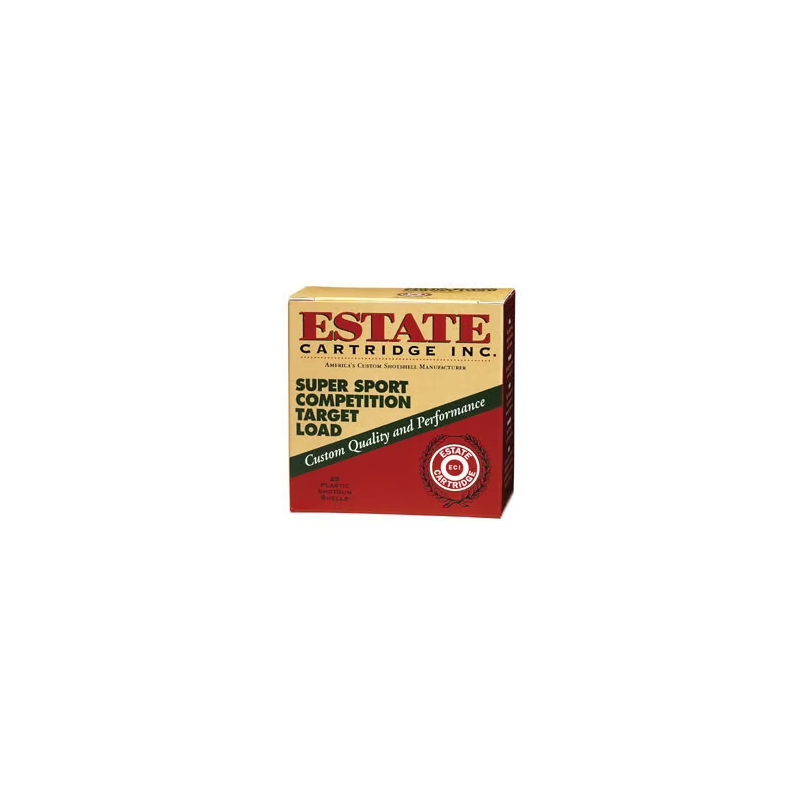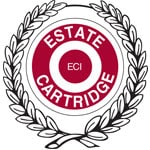 Made In United States of America
WARNING: This product can expose you to Lead, which is known to the State of California to cause cancer and birth defects or other reproductive harm. For more information go to – www.P65Warnings.ca.gov
Recommended for target shooting, the Estate Cartridge Super Sport Competition Target 12 Gauge Shotshells offer a consistent pattern and feature a 2-3/4″ shell length. 1-1/8 oz. shot. 7-1/2 shot size. 25-round box. Made in USA.
Features and Benefits
Muzzle Velocity: 1,200 fps
1-1/8 oz. shot
7-1/2 shot size
12 gauge
2-3/4″ shell length
Recommended for target shooting
Consistent pattern
25-round box
Made in USA
Made of lead
Specifications
Gauge/bore: 12
Number of rounds: 25
Ounce shot: 1-1/8
Manufacturer warranty – general: 1 year limited
Hunting – Shot Type: Lead
Shell length (in.): 2-3/4
Shot size: 7-1/2
Important Product and Safety Information
You must be 18 or older to purchase Rifle or Shotgun Ammunition and 21 or older to purchase Handgun Ammunition. In ordering this product, you certify that you are of legal age and satisfy your jurisdiction's legal requirements to purchase this product.
For safety reasons, we do not accept returns on ammunition. Always make sure you use the correct ammunition for your specific firearm.
The sale or shipment of this product to residents of certain jurisdictions is prohibited. Check your local laws before ordering this product. Check your local laws for any other regulations.
We recommend the use of protective eyewear whenever using or near the use of this item.
Item will only be shipped using Ground Shipping to the contiguous 48 states only.