The IMI Ammunition 9mm Luger 115 Grain Di-Cut Jacketed Hollow Point is a top-of-the-line ammunition that is designed to deliver maximum performance and accuracy. This ammunition is manufactured by Israel Military Industries (IMI), a renowned global supplier of small caliber ammunition.
The IMI Ammunition 9mm Luger 115 Grain Di-Cut Jacketed Hollow Point design of this ammunition allows for controlled expansion upon impact, delivering devastating terminal performance. The bullet's jacket is partially cut to promote expansion and create a larger wound channel, while the hollow point ensures maximum energy transfer and stopping power.
The 9mm Luger cartridge is one of the most popular handgun rounds in the world, and is widely used by law enforcement agencies, military personnel, and civilian shooters. With a muzzle velocity of 1200 feet per second and a muzzle energy of 368 foot-pounds, this ammunition is powerful enough to stop threats in their tracks.
IMI Ammunition is known for its consistent quality and reliability, and this 9mm Luger ammo is no exception. Whether you're looking for self-defense ammunition or range ammo, the IMI Ammunition 9mm Luger 115 Grain Di-Cut Jacketed Hollow Point is an excellent choice.
IMI Ammunition is a defense systems house specializing in the development, integration, manufacturing and life cycle support of modern land, air and naval combat systems and HLS solutions. IMI's world class combat-proven systems are developed by vertically integrated expert teams, working in close cooperation with the customers, the most prominent being the Israel Defense Forces (IDF). IMI's products have been qualified with the IDF, US Military (Air Force, Army and Navy) and NATO nations.
This ammunition is a great choice for the shooter looking for a great affordable round for target shooting, training and practice. The Di-Cut bullet ogive was especially designed for consistent feeding and operation, preventing misfeeding in a wide range of 9mm pistols. This ammunition is new production, non-corrosive, in boxer-primed, reloadable brass cases.
IMI Ammunition 9mm Luger 115 Grain Di-Cut                                          Jacketed Hollow Point For Sale
Quantity Packs:
Box of 50 = As pictured
Box of 500 = 10 boxes of 50
Case of 1000 = 20 boxes of 50
Features
Operational use by various Israeli security forces as well as police and law enforcement units around the world
Developed by IMI as a personal security round and to meet the needs of modern police forces
Excellent stopping power
Complies with SAAMI and C.I.P. specifications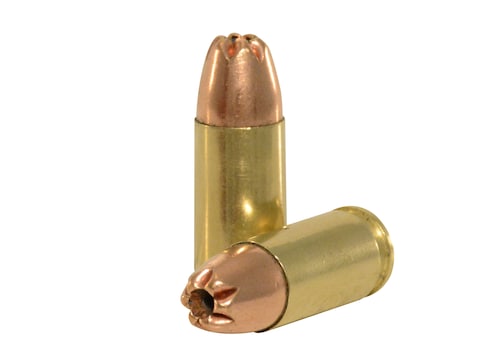 Product Information
| | |
| --- | --- |
| Cartridge | |
| Grain Weight | |
| Quantity | |
| Configuration | |
| Muzzle Velocity | |
| Muzzle Energy | |
| Bullet Style | |
| Lead Free | |
| Case Type | |
| Primer | |
| Corrosive | |
| Reloadable | |
Delivery Information
| | |
| --- | --- |
| | 1.380 Pounds – 28.105 Pounds |
| | Yes |
WARNING: This product can expose you to Lead, which is known to the State of California to cause cancer and birth defects or other reproductive harm. For more information go to – www.P65Warnings.ca.gov.