Remington Golden Bullet Ammunition 22 Long Rifle 36 Grain Plated Lead Hollow Point Bulk, the perfect choice for shooters seeking outstanding performance and reliability in their 22 Long Rifle firearms. Designed with precision and quality in mind, this bulk pack of ammunition is a must-have for target practice, plinking, and small game hunting.
Each round of Remington Golden Bullet Ammunition is loaded with a 36-grain plated lead hollow point bullet, optimized for accuracy and consistent expansion upon impact. The hollow point design ensures reliable terminal performance, making it an excellent choice for varmint control and small game hunting.
The plated lead construction not only enhances accuracy but also provides smooth feeding and reliable cycling in semi-automatic firearms. This is particularly beneficial for shooters looking to maintain a high rate of fire and minimize malfunctions during rapid-fire sessions.
The Remington Golden Bullet
Ammunition
is known for its reliable ignition and consistent velocities. This ensures every shot you take is delivered with precision and consistency, allowing you to hone your shooting skills with confidence.
The bulk packaging of this ammunition allows you to enjoy extended shooting sessions without the need for frequent restocking. With each box containing a generous quantity of rounds, you can spend more time on the range and less time worrying about running out of ammunition.
Whether you're a seasoned shooter or a novice looking to improve your skills, the Remington Golden
Bullet Ammunition
is a reliable and affordable choice. Trust in Remington's long-standing reputation for quality and performance, and experience the satisfaction that comes with shooting ammunition you can rely on.
Gear up with Remington Golden Bullet Ammunition and elevate your shooting experience to new heights. Take aim, squeeze the trigger, and unleash the power and precision that Remington is renowned for.
Quantity Packs:
Box of 525 = Bulk-packed loose in a cardboard box
Box of 1400 = Bulk-packed loose in a plastic bucket
Remington Golden Bullet Ammunition 22 Long Rifle 36 Grain Plated Lead Hollow Point Bulk For sale.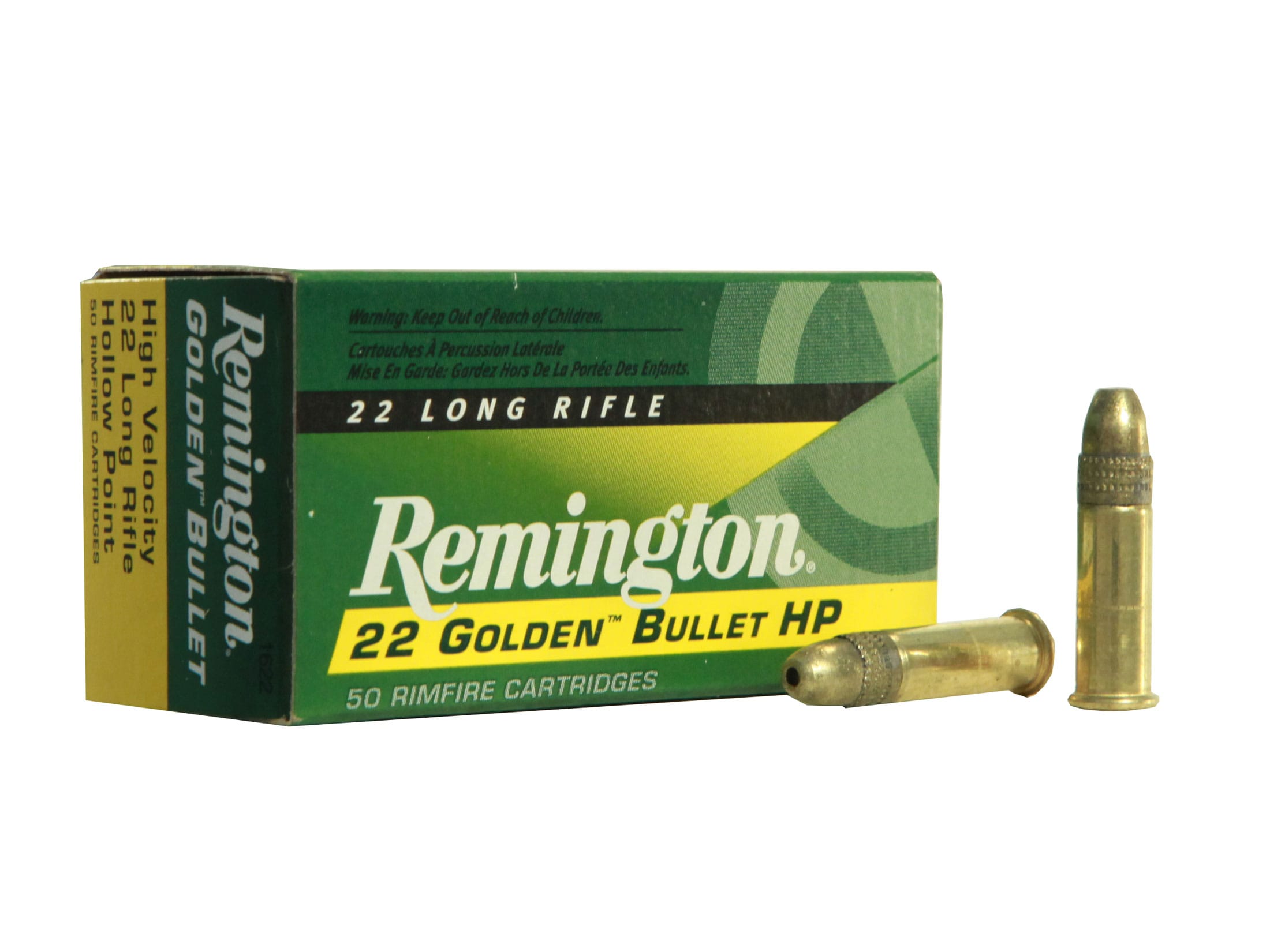 When it comes to handling and storing ammunition, it's crucial to prioritize safety. Here are some essential safety precautions and storage recommendations for Remington Golden Bullet Ammunition:
Always treat ammunition as if it were live: Regardless of whether you believe a round is live or not, always handle it with the utmost caution and respect. Accidental discharge can cause serious harm or damage.
Store ammunition in a cool, dry place: Exposure to moisture and extreme temperatures can compromise the integrity of the ammunition. Ideally, store it in a locked container or safe that is away from children and unauthorized individuals.
Keep ammunition away from heat sources: Avoid storing ammunition near heat sources such as radiators, heaters, or direct sunlight. High temperatures can cause the propellant to degrade, leading to unpredictable performance.
Avoid mixing different ammunition types: Mixing different types of ammunition can lead to malfunctions or dangerous situations. Always use the specific ammunition recommended by your firearm manufacturer.
Check for signs of damage or corrosion: Before using any ammunition, inspect it for signs of damage, corrosion, or deformation. Discard any rounds that appear compromised, as they may pose a safety risk.
Follow proper loading and unloading procedures: When loading or unloading your firearm, always follow the manufacturer's instructions. Ensure that the firearm is pointed in a safe direction and that your finger is off the trigger.
Dispose of old or damaged ammunition properly: If you come across old or damaged ammunition that you no longer wish to use, contact your local law enforcement agency or ammunition dealer for guidance on proper disposal methods.
Made In United States of America
WARNING: This product can expose you to Lead, which is known to the State of California to cause cancer and birth defects or other reproductive harm. For more information go to – www.P65Warnings.ca.gov.
Product Information
| | |
| --- | --- |
| Cartridge | |
| Grain Weight | |
| Quantity | |
| Configuration | |
| Muzzle Velocity | |
| Muzzle Energy | |
| Bullet Style | |
| Lead Free | |
| Velocity Rating | |
| Country of Origin | |
Delivery Information
1.655 Pounds – 48.185 Pounds
Yes

 Cannot ship via air
 Cannot ship via USPS
 Cannot ship to PO Box