Remington Gun Club Ammunition 12 Gauge offers a great lineup of ammunition, including this hard-hitting buckshot load. A combination of heavy cushioning behind the shot column and a granulated polymer buffer helps maintain pellet roundness for tight, even patterns. Check out the 100-pack; a sleeve of 4 boxes of 25 shells that looks great on the ammo shelf and is a perfect way to stock up. Perfect for home defense or deer if required in your area
Remington Gun Club Ammunition 12 Gauge – the perfect choice for shotgun enthusiasts seeking reliable and high-performing ammunition. Designed and manufactured by Remington, a trusted name in firearms and ammunition for over two centuries, this ammunition is specifically crafted to deliver outstanding performance and accuracy.
The Remington Gun Club Ammunition 12 Gauge is meticulously engineered with the utmost attention to detail, ensuring consistent and dependable results shot after shot. Whether you're a competitive shooter, a seasoned hunter, or simply enjoy recreational shooting, this ammunition is tailored to meet your needs.
Key Features:
Consistent Performance: Remington Gun Club Ammunition 12 Gauge is built to deliver consistent and reliable performance, allowing you to shoot with confidence. Each round is carefully manufactured using premium components to ensure uniformity and reliability, minimizing variations in velocity and trajectory.
Superior Accuracy: When it comes to hitting your target with precision, the Remington Gun Club Ammunition 12 Gauge excels. Its meticulously designed projectiles guarantee excellent downrange accuracy, enabling you to achieve tighter shot patterns and increased success rates.
Versatility: This ammunition is suitable for a wide range of applications. Whether you're participating in clay shooting sports, hunting upland game, or defending your property, the Remington Gun Club Ammunition 12 Gauge delivers versatile performance to meet your shooting requirements.
Smooth Functioning: Designed to function flawlessly in various shotgun platforms, this ammunition ensures smooth cycling and reliable feeding. Experience fewer malfunctions or jams, allowing you to focus on your shooting experience without interruptions.
Quality Construction: Remington Gun Club Ammunition 12 Gauge is constructed with premium materials and stringent quality control measures. The brass heads offer durability and easy extraction, while the clean-burning powders reduce fouling and facilitate easier maintenance.
Cost-Effective: Remington Gun Club Ammunition 12 Gauge provides exceptional value for its performance and reliability. Whether you're an avid shooter or a budget-conscious individual, this ammunition offers an affordable option without compromising on quality.
Choose Remington Gun Club Ammunition 12 Gauge to elevate your shooting experience. With its consistent performance, superior accuracy, and versatile applications, it's a trusted companion for any shotgun enthusiast. Whether you're hitting the range or heading into the field, rely on Remington's legacy of excellence to deliver the results you expect.
Remington Gun Club Ammunition 12 Gauge 2-3/4″ 1-1/8 oz #7-1/2 Shot For sale.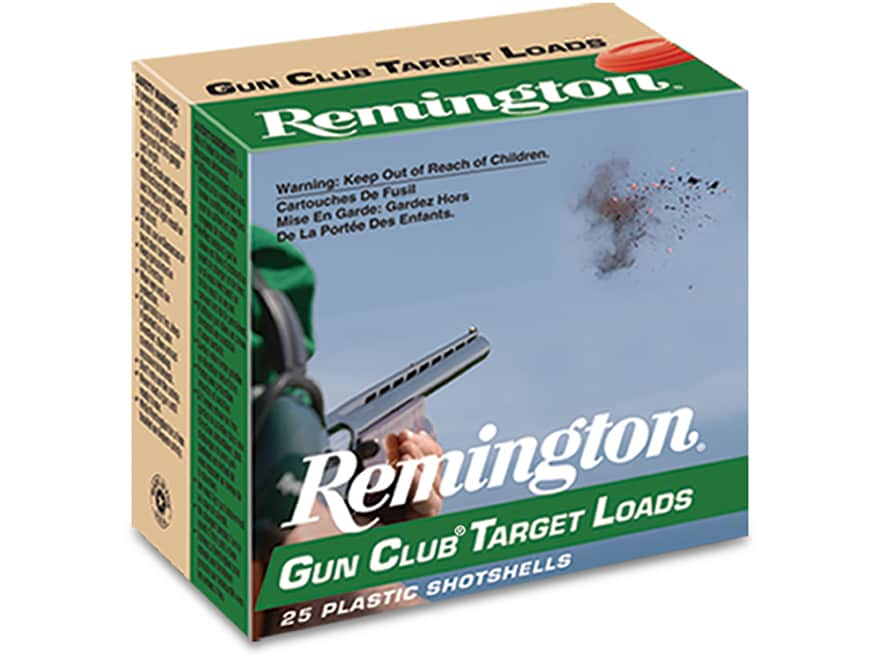 Made In United States of America
Product Information
| | |
| --- | --- |
| Cartridge | |
| Quantity | |
| Configuration | |
| NonToxic | |
| Shell Length | |
| Shot or Slug Type | |
| Shot Size | |
| Buffered | |
| Muzzle Velocity | |
| Primer | |
| Corrosive | |
| Reloadable | |
| Barrel Type | |
| Shot Weight | |
| Crimp | |
| Country of Origin | |
Delivery Information
2.400 Pounds – 24.585 Pounds
Yes

 Cannot ship via air
 Cannot ship via USPS
 Cannot ship to PO Box