Remington UMC Ammunition 9mm Luger 115 Grain Full Metal Jacket is a high-quality ammunition designed for target shooting, practice, and plinking. This ammunition is made by one of the most trusted names in the firearms industry and is known for its reliability, consistency, and accuracy.
The 115-grain full metal jacket bullet is made of high-quality materials, including a lead core and a copper jacket. This combination provides excellent penetration and ensures that the bullet maintains its shape as it travels through the air and hits the target. The full metal jacket also helps prevent barrel fouling, making it easier to clean your firearm after shooting.
The Remington UMC Ammunition 9mm Luger 115 Grain Full Metal Jacket is loaded to standard pressure, making it suitable for use in most firearms chambered for 9mm Luger. Each round is carefully inspected and tested to ensure consistent performance, so you can trust that every shot will be accurate and reliable.
Whether you're a recreational shooter, a competitive shooter, or a law enforcement officer, the Remington UMC Ammunition 9mm Luger 115 Grain Full Metal Jacket is an excellent choice. Its quality construction, consistent performance, and affordable price make it a top pick for anyone looking for reliable ammunition for target shooting, practice, or plinking.
Remington UMC ammunition is reliable, affordable loads for the high-volume shooter. Whether for practice, target shooting or training exercises, UMC ammunition is a superb choice for high volume shooting and hunting. This ammunition is new production, non-corrosive, in boxer primed, reloadable brass cases.
For nearly 140 years, the Union Metallic Cartridge Company name has been synonymous with some of the finest ammunition made. Since its beginning in 1867, UMC has blazed a trail of innovation in cartridge-making excellence that continues to this day. UMC was the first ammunition company to produce centerfire ammunition, the .22 Long Rifle cartridge, and super-accurate "Palma Match" target ammunition. The UMC division makes only first-quality product, in a limited line of popular specifications, so they can bring you the benefit of manufacturing efficiencies that keep costs low. The rifle and handgun ammunition made today is the product of 140 years of design innovation and manufacturing excellence.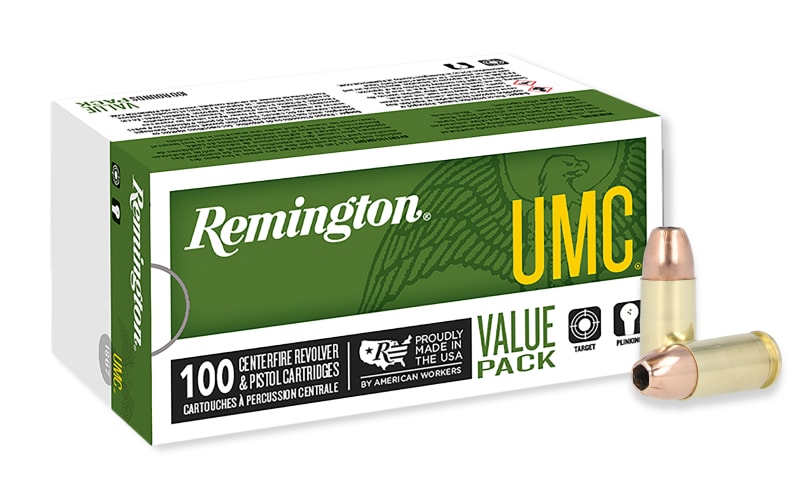 Product Information
| | |
| --- | --- |
| Cartridge | |
| Grain Weight | |
| Quantity | |
| Configuration | |
| Muzzle Velocity | |
| Muzzle Energy | |
| Bullet Style | |
| Lead Free | |
| Case Type | |
| Primer | |
| Corrosive | |
| Reloadable | |
| Country of Origin | |
Delivery Information
| | |
| --- | --- |
| | 1.395 Pounds – 28.195 Pounds |
| | Yes |