Sellier & Bellot Ammunition 12 Gauge is the ultimate choice for shotgun enthusiasts seeking superior performance and reliability. Crafted with precision and backed by a rich heritage of excellence, Sellier & Bellot delivers ammunition that exceeds expectations and delivers results.
With a gauge size of 12, this
ammunition
is designed to fit a wide range of shotguns, making it a versatile option for various shooting applications. Whether you're using it for home defense, hunting, or target shooting, the Sellier & Bellot 12 Gauge #1 Buckshot is engineered to deliver the power and accuracy you need.
Featuring a 2-3/4″ shell length, this ammunition is optimized for consistent and dependable performance. The length ensures compatibility with most shotguns chambered for 2-3/4″ shells, allowing you to seamlessly load and fire without any issues.
The #1 Buckshot with 12 pellets offers a balanced combination of stopping power and spread. Each pellet weighs just enough to provide effective penetration while maintaining a controlled pattern, maximizing your chances of hitting your target with precision. Whether you're facing a threat or pursuing game, this ammunition offers the ideal balance of energy and spread to get the job done.
Sellier & Bellot is renowned for its commitment to quality and reliability. Every round is meticulously manufactured using premium components and undergoes stringent quality control measures to ensure consistent performance and accuracy. With Sellier & Bellot, you can trust that each shot will deliver the results you expect.
Invest in
Sellier & Bellot Ammunition 12 Gauge
  and elevate your shooting experience to new heights. Whether you're a seasoned shooter or a novice, this ammunition offers the reliability, precision, and power you need to excel in the field or on the range. Don't settle for anything less than the best – choose Sellier & Bellot for unparalleled performance.
Sellier and Bellot has been producing cartridge ammunition since 1825. The year 2009 saw one of the milestones in the history of the company, the Brazilian company Companhia Brasileira de Cartuchos S.A. (CBC), also known under the name of Magtech, became the owner of Sellier & Bellot. Another group member is the German company MEN, a globally renowned producer of small-arms ammunition for the military, police, and commercial markets. Due to the merger into one group, the mentioned companies have become more competitive and rank among the largest producers in the world.
Today Sellier and Bellot produce ammunition using high quality components which is the choice of hunters, competitive shooters, law enforcement agencies and militaries around the world. This ammunition is new production, non-corrosive. Available in 10 and 25 count boxes.
When you choose Sellier & Bellot Ammunition 12 Gauge 2-3/4″ #1 Buckshot 12 Pellets, you're investing in a product that combines power, precision, and reliability. Whether you're in a high-pressure situation or engaged in a hunting expedition, this ammunition is designed to deliver the performance you demand. Trust in Sellier & Bellot to elevate your shooting experience and achieve exceptional results.
Sellier & Bellot Ammunition 12 Gauge 2-3/4″ #1 Buckshot 12 Pellets For Sale.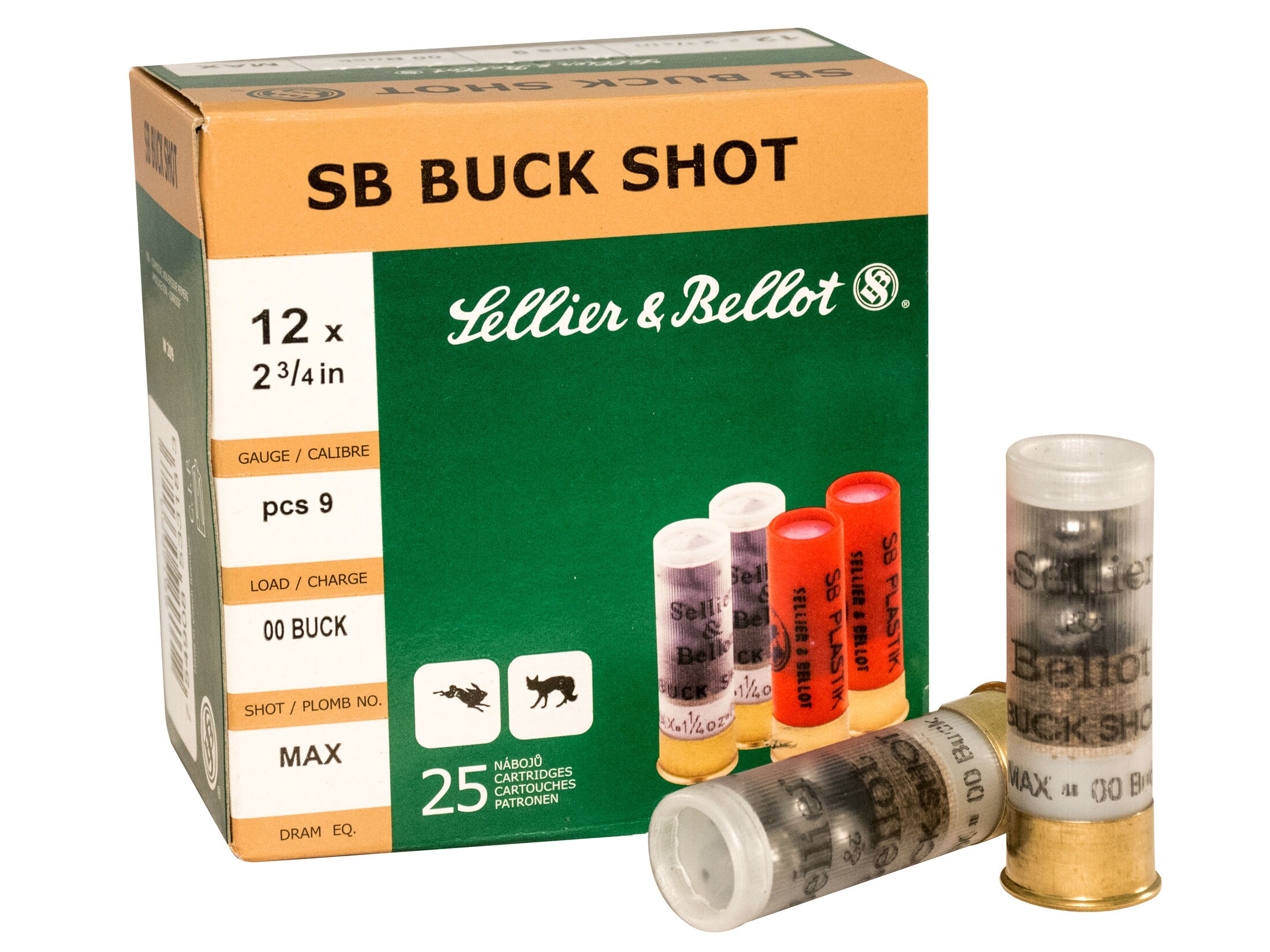 Product Information
| | |
| --- | --- |
| Cartridge | |
| Quantity | |
| Configuration | |
| NonToxic | |
| Shell Length | |
| Shot or Slug Type | |
| Shot Size | |
| Buffered | |
| Muzzle Velocity | |
| Primer | |
| Corrosive | |
| Reloadable | |
| Barrel Type | |
| Crimp | |
| Number Of Pellets | |
Delivery Information
1.010 Pounds – 29.300 Pounds
Yes

 Cannot ship via air
 Cannot ship via USPS
 Cannot ship to PO Box
Note: As with many buckshot loads, the hull features a roll crimp, making it slightly longer than star-crimped hulls. The overall length of this ammunition is approximately 2.47″.