Winchester large pistol primers provide quick, consistent ignition in every shooting situation. They are non-corrosive and all-weather primers. Primers are consistently and extensively tested for consistency and sensitivity under situations and at temperatures well outside the normal operating range.
Winchester big pistol primers are backed by a promise of improved sensitivity for more positive shooting in all firearms, carefully regulated weights of primer mixtures, consistency in size and quality, exact measurements and tolerances for anvil heights, and stability in the face of extremes in temperature and humidity.
For Standard or Magnum pistol ammunition, packaging is labelled. Before reloading, refer to your reloading handbook.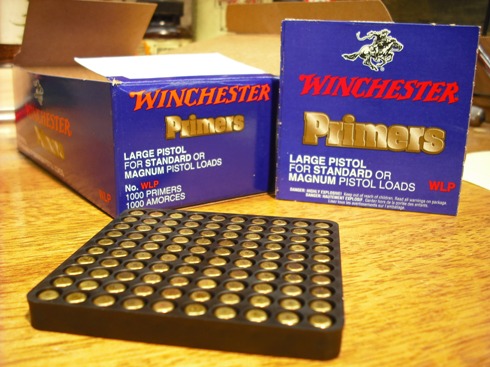 Quantity Information:
Box of 1000: 10 Sleeves of 100
Box of 5000: 5 boxes of 1000
WARNING: This product exposes you to lead, which the State of California is aware can harm your reproductive system and cause cancer. Primers, Fuses, Smokeless Powder, and Black Powder ship from our warehouse along with other goods.