Winchester Small Pistol Primers, the reliable choice for all your handgun reloading needs. Engineered with precision and crafted to perfection, these primers are designed to deliver consistent ignition and optimal performance every time you pull the trigger.
Whether you're a competitive shooter, a dedicated reloader, or a firearm enthusiast, Winchester Small Pistol Primers are an essential component to enhance the reliability and accuracy of your ammunition. These primers are specifically tailored for small pistol cartridges, ensuring a seamless fit and seamless operation in your favorite handguns.
What sets Winchester Small Pistol Primers apart is their unwavering reliability. Each primer is manufactured with meticulous attention to detail, utilizing high-quality materials and advanced manufacturing processes. This guarantees consistent dimensions, reliable sensitivity, and minimal variation in performance from primer to primer.
Thanks to their sensitive and consistent ignition,
Winchester Small Pistol
Primers provide optimal muzzle velocity and consistent shot-to-shot velocities. This allows for tighter groupings, increased accuracy, and improved overall performance, giving you the confidence to push your shooting skills to the next level.
Winchester Small Pistol Primers are also known for their easy loading and seating. Their compact size and well-designed cup provide a seamless fit into small pistol primer pockets, ensuring smooth and trouble-free reloading. The primers feature a user-friendly design that makes them compatible with most reloading presses and tools, simplifying the reloading process.
Safety is paramount when it comes to firearms, and Winchester understands that. These primers are manufactured to meet stringent safety standards, undergo rigorous quality control measures, and are backed by Winchester's reputation for excellence. You can have peace of mind knowing that every primer you use is reliable and safe.
Whether you're a competitive shooter seeking consistent performance or a diligent reloader who values precision, Winchester
Small Pistol Primers
are the ultimate choice. Elevate your shooting experience, achieve tighter groups, and enjoy the confidence that comes with using trusted and dependable ammunition components.
Choose Winchester Small Pistol Primers and unlock the true potential of your handgun ammunition. Trust in Winchester's legacy of quality and join the countless shooters who rely on these primers for their reloading needs. Enhance your shooting experience and make every shot count with Winchester Small Pistol Primers.
Winchester Small Pistol Primers #1-1/2 Box of 1000 non-corrosive, all weather primers deliver fast, dependable ignition under any shooting condition. Primers are constantly and rigorously tested for consistency and sensitivity at temperatures and conditions far beyond the range of normal usage. Winchester guarantees better sensitivity for more positive firing in all guns, carefully-controlled weights of primer mixtures, consistency in size and quality, precise measurements and tolerances for anvil heights and stability in extremes of temperatures and humidity.
Winchester Small Pistol Primers #1-1/2 Box of 1000 (10 Trays of 100) For sale.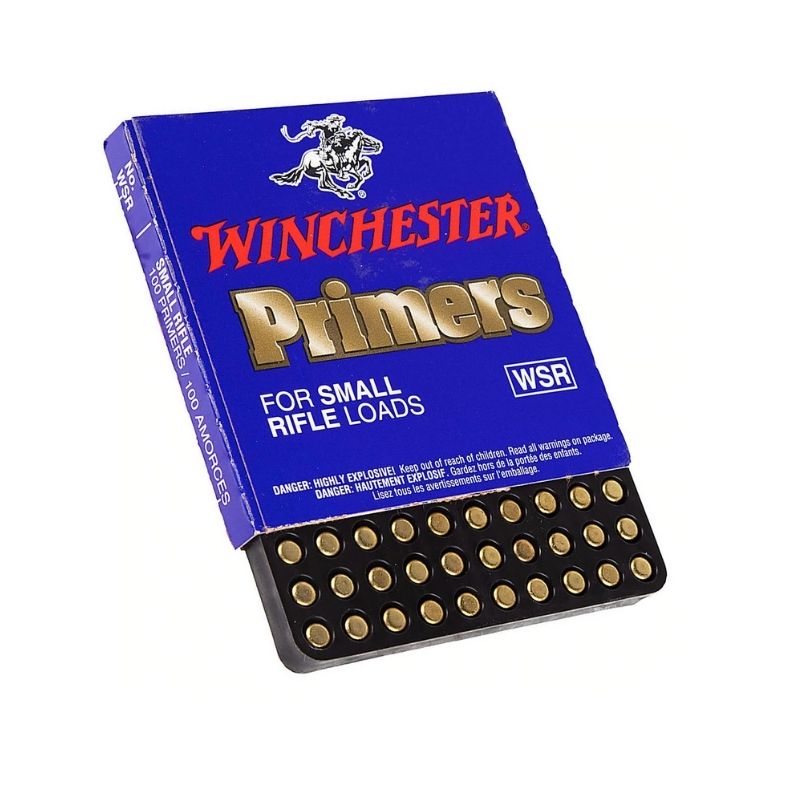 Quantity Information:
Box of 1000: 10 Sleeves of 100
Box of 5000: 5 boxes of 1000
Made In United States of America
Specifications
Product Information
Quantity 1000 Piece
Primer Size Small Pistol
Country of Origin United States of America
Delivery Information for winchester small pistol primer
Shipping Weight 0.920 Pounds
DOT-Regulated Yes
HazMat Product Yes
 Here are some additional details about these primers:
Consistency and Reliability: Winchester Small Pistol Primers undergo strict quality control measures to ensure consistent performance. The primers are manufactured with precision to deliver reliable ignition, shot after shot. This consistency is essential for achieving tighter groups and improving overall accuracy.
Sensitive Ignition: These primers are engineered to provide sensitive ignition, even in low-pressure handgun cartridges. This feature ensures reliable and consistent performance, enhancing the reliability and functionality of your ammunition.
Versatility: Winchester Small Pistol Primers are suitable for a wide range of handgun cartridges, including popular calibers like 9mm, .40 S&W, .45 ACP, and more. Whether you're reloading for target shooting, competition, or personal defense, these primers offer reliable ignition across various handgun platforms.
Safety: Winchester prioritizes safety in their products, and the Small Pistol Primers are no exception. Each primer is manufactured to meet stringent safety standards, providing peace of mind for reloaders. By using Winchester Small Pistol Primers, you can ensure the safe and reliable operation of your ammunition.
Ease of Use: These primers are designed with ease of use in mind. Their compact size and well-formed cup make them easy to load and seat in small pistol primer pockets. This streamlined process saves time and effort during the reloading process, allowing you to focus on perfecting your ammunition.
Trusted Brand: Winchester has a long-standing reputation for producing high-quality ammunition components. Their commitment to excellence and innovation makes them a trusted name among shooters and reloaders worldwide. By choosing Winchester Small Pistol Primers, you can rely on a brand that has continually delivered superior products for generations.
Availability: Winchester Small Pistol Primers are widely available, making them easily accessible to reloaders. Their popularity and reputation mean that you can find them in many sporting goods stores, online retailers, and firearm supply shops.