Winchester usa ready 9mm  Match Primers utilize the same primers as match grade Winchester USA ammunition? 9mm ammo is ready. For uniformity from shot to shot, these primers are constructed to stringent standards. All primers are extensively and continuously tested for consistency and sensitivity under situations and at temperatures well outside their typical operating range. Winchester promises improved sensitivity for more positive firing in all firearms, weights of primer combinations that are carefully regulated, uniformity in size and quality, exact measurements and tolerances for anvil heights, and stability in the face of fluctuations in temperature and humidity.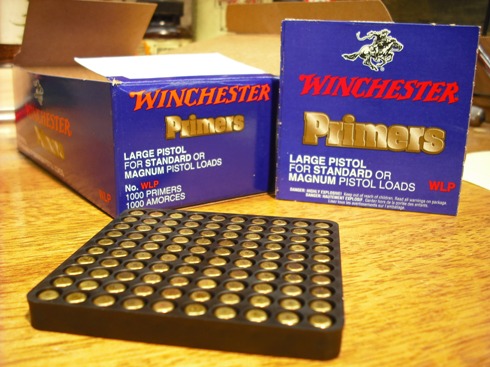 Quantity Information:
Box of 1000: 10 Sleeves of 100
Box of 5000: 5 boxes of 1000
Winchester logo
Made In United States of America
Winchester usa ready 9mm large rifle  Match Primers Packaging:
These boxes don't take up much shelf space because there isn't a lot of empty space inside of them. The sturdy plastic trays support primer pickup tubes (like those used with Hornady and Dillon systems), and they are compatible with both brands. Just my opinion, but I usually use an old Lee primer tray and flip the primers onto a flat surface rather than using the pickup tubes right on the trays. The attractive plastic trays and small packing earn a rating of 4.5 out of 5.
WARNING: This product can expose you to Lead, which is known to the State of California to cause cancer and birth defects or other reproductive harm. For more information go to – www.P65Warnings.ca.gov.